Starts Friday information will be posted every Tuesday.
At The Towne Cinema we run a Friday to Thursday show week. This means that new shows will start Friday nights and carry on until the following Thursday.
Showtimes for the week of August 14 - 20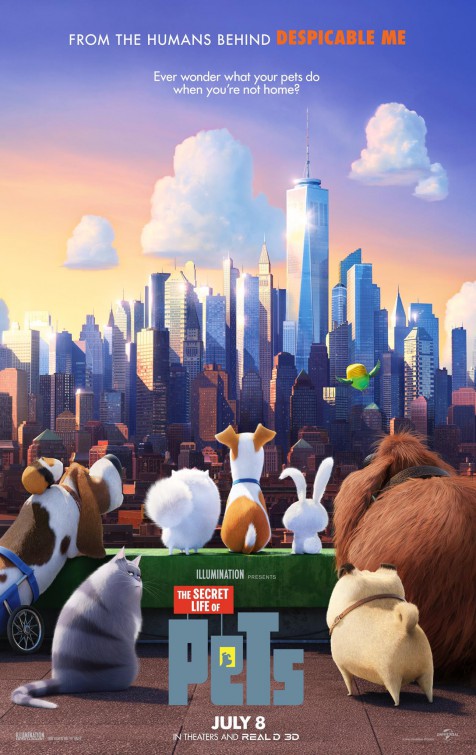 The Secret Life of Pets
Showing Friday - Tuesday
2:30pm
Rated:
Genre: Animation, Comedy, Family
Running Time: 90 min.
In Manhattan, Max (voice of Louis C.K.) is enjoying his life as his owner Katie's (voice of Ellie Kemper) best pal in the comfortable apartment building where they live together. He loves her so much that he sits by the door, just waiting for her to come home each day. But one day, his life is turned upside down when his human brings home a sloppy mongrel named Duke (voice of Eric Stonestreet).
Duke turns out to be less than careful about Katie's decor, which gives Max an idea. He decides to break some things and blame it all on the new guy. But when Max and Duke get away from their dog walker and are captured by Animal Control, they run into a bad little bunny named Snowball (voice of Kevin Hart) and his gang of unwanted pets, while Max's friends, especially Gidget (voice of Jenny Slate), who has a crush on him, hit the streets in an effort to rescue them.
The Invisible Man
Showing Friday - Tuesday

5:30pm
Rated:
Genre: Thriller
Running Time: 125 min.
Cecilia (Elisabeth Moss) has an abusive boyfriend, Adrian, who's a sociopath. He controls every aspect of her life and she's terrified of him. She finally decides to run away to save her life. Soon after, she receives word from Adrian's attorney that Adrian has committed suicide and left her money. However, Cecilia doesn't believe Adrian would ever kill himself.
Although her friends tell Cecilia she doesn't have to be afraid of Adrian anymore, she remembers he warned her that wherever she went, he would find her. He told her that at some point in the future he would be able to walk right up to her, and she wouldn't be able to see him. She soon discovers strange things happening, but can't see what is causing it. She believes Adrian isn't dead, but as he promised, he has discovered a way to be invisible. Cecilia tries to tell her friends, but they don't believe her and worry she's going crazy.
Based on the novel by H.G. Wells.
Furious 7
Showing Friday - Tuesday

7:30pm
Rated:
Genre: Action/Adventure, Other, Thriller
Running Time: 137 min.
Han (Sung Kang) is killed in revenge on the streets on Tokyo by Deckard Shaw (Jason Statham), Owen Shaw's (Luke Evans) older brother.
Shaw turns his sights on Brian (Paul Walker) and Dom (Vin Diesel) as they team up for one last ride. To protect those they love, and fight against a man bent on vengeance, it will be a fast and furious ride to the end.